The idea for my perfume scrapbook has started with someone question on some forum
"what was the name of that perfume that was so popular in the 70ties?"
And the flood of posts has followed!

As it turns out, perfume fall in and out of fashion as everything else.
I though it would be good to have some immortalized by way of scrapbook,
so someone in 20, 30, 50 and more years
can look thru it and say "oh, yeah! aww, look at that, I remember this!"

I remember one so popular in the 80ties but you won't see it anymore
- Halston.
it used to be everywhere! the ads everywhere - Halston Woman.

- Amazone
it was my first or one of the first "real" perfume I bought while awaiting my immigration to Canada.. mmm, memories

- Antilope
back in the late 70-ties, it had totally different scent than it has now, it was gorgeous! I miss it so much!
my first 'grown up' perfume ever.

- a cheap "Charisma" roll on
one of my girl friends got it from her Canadian BF while still living in PL.
OMG what a hit it was in the late 70 ties!!!!!!! we gals were all green with envy!

- Le Chat Noir - cheap but chic EDT or EDP or EDC my Grandma used to use. early 70 ties.
The box was very cool - a black velvet cat's head on a very short neck, with green eyes. Oh, to have it again!

- Masumi.
some are still available but I am sure it is not the same as the original scent from the 70 ties.

How about you - do you remember some perfumes that are no longer used/ produced?
what were their names?

Risa



Oh, I don't know if they are still being produced or not but my sister wore "Charlie", in the 70"s I wore "Loves Baby Soft" and Aliage in the 80's a heavy musk still produced by Estee Lauder.

Remember the ad "Can you canoe?"
I have always had a thing for men's cologne. Before you all go and assume why, I'll tell you that it is because my mom also loved men's colognes...lol. So although I've owned a few women's perfumes, it is almost always cologne that I go with in the end.

Of course, my migraines have put a stop to it...but if I could wear some now I'd probably pick obsession for men.
Admin




Posts

: 1001


Points

: 1252


Join date

: 2009-12-07


Location

: Vancouver, Canada



Milo...that's what hubby and Robert wear.
You are not the only one Milo, who wears men's perfume - I love men's Prada !

Risa

Oh, and "Your wind song stays on my mind"
How about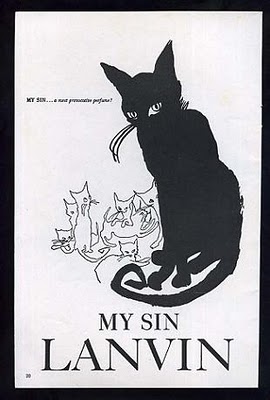 Cute, btw, very cute!
Risa

---
Permissions in this forum:
You
cannot
reply to topics in this forum