I have not been coping well, as we all know. I know, I'm really private, so you guys don't tend to get a whole lot of info about me, but I swear I try. I have a history of some pretty crazy stuff happening with the internet and stalking so I always err on the side of caution. Having said that...I thought I'd share my latest tattoo with you guys.
My wife has a gorgeous half sleeve that is a beautiful water scene. It was done by the father of our goddaughter. So he came to stay with us last week (left this morning). He has his own shop across the country and flew in to do some work. My wife had planned to get a jellyfish added to her arm. It is very nice and covers the whole inside of her arm.
So.....I have tattoos, but I have them in places where they can easily be covered...even in the heat. I have several. I like tattoos and think they can be very pretty and extremely expressive and meaningful.
We spent quite of time hemming and hawing about what I could have done. I have never done one just for the sake of doing one. I really love red eyed tree frogs and spent considerable time trying to find the right tree frog to translate into a great tattoo. I found some awesome ones and even picked out a few potential ones, but my heart just wasn't into it.
I really, really loved my wifes and considered if I could also have a jellyfish. I passed the idea by her...as I thought it was kind of romantic too to be able to have a "couples" tattoo. Of course, the caveat was that it wouldn't be the same at all, but based on the first ones sketch. Well...both my wife and the artist were so into the idea that it just exploded from there. It was awesome, because it felt right in every way that the frog idea felt wrong. It also felt to me like a way of commemorating this stressful time we have been going through with all the cancer scares and other stressors.
It was very, very painful....even with my migraine meds on board...but SOOOOOOO worth it.
Here is an artistic glimpse at mine.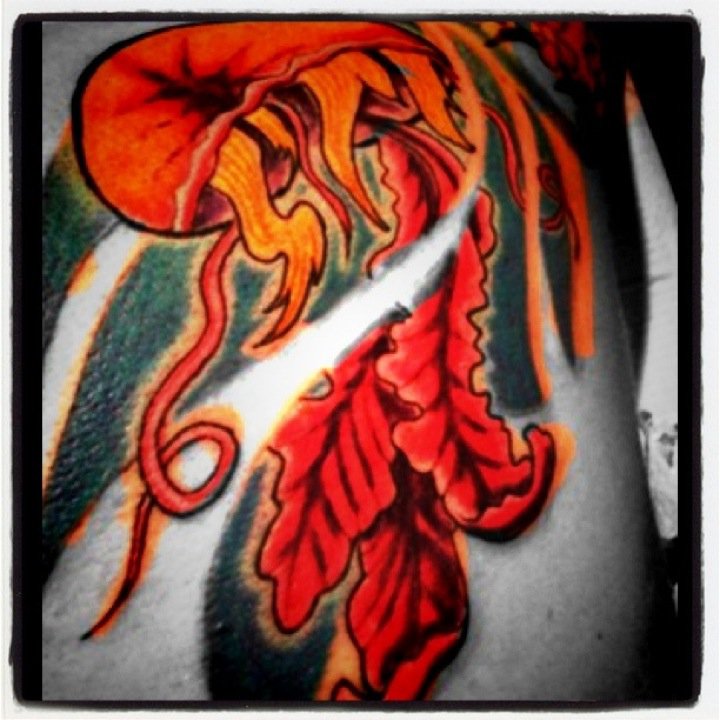 What do you guys think?
PS...it's DID not trigger on a full blown migraine.
Admin




Posts

: 1001


Points

: 1252


Join date

: 2009-12-07


Location

: Vancouver, Canada



The color is so vibrant!! How long will it stay that bright? I love the story of it. Thank you for sharing it.
Admin




Posts

: 505


Points

: 701


Join date

: 2010-10-31



It's beautiful. What a great way to do a couple's tattoo.

I'm too chicken to get one myself. I'm afraid it would trigger a fibro or neuropathic pain response. Not something I do voluntarily. But if I did, it would be a dragon.
Three Star





Posts

: 126


Points

: 160


Join date

: 2011-04-07



Those colors are gorgeous! I would love to see your wife's new work too, if she's willing to share. You've got a great tattooist!

If she doesn't want to share, that's fine too, but I love getting to see other peoples body art. I've been debating a repiercing, but I haven't felt up to the babying it needs at first.
Four Star





Posts

: 307


Points

: 351


Join date

: 2010-11-11



_________________
I feel sorry for people who don't drink. When they wake up in the morning, that's as good as they're going to feel all day.
Frank Sinatra
Admin




Posts

: 1534


Points

: 1963


Join date

: 2011-03-18


Location

: BC Canada



It is NOT a small tattoo...I know you guys can't tell that by the picture.

Admin




Posts

: 1001


Points

: 1252


Join date

: 2009-12-07


Location

: Vancouver, Canada



AWESOME! I have 5 myself, and haven't had a new one for years, BUT have been considering a new one! I have to consider it for a good long while before I get it done. I would like my son's name in sanskrit, but don't know how to go about getting that translated!
Two star





Posts

: 91


Points

: 101


Join date

: 2011-03-28


Age

: 40


Location

: Ohio





Similar topics
---
Permissions in this forum:
You
cannot
reply to topics in this forum