I LOVE this show!!!!
I can't get enough of it. I am recording episodes as not to miss any of it.
Too bad I found it only recently, but I hope they will be much more of it.
I can't believe the hissy tantrums the queens throw

and how ridiculously talented these guys are!
AND
They look hundred times better than me!!!

Risa
I don't think I've ever watched it. I went to "Boylesque" show in Vegas years ago and was very impressed. But I sat through the whole show wondering "where did they put it?". Creative tucking I guess! LOL

What Channel has your trash....ummmm show on it?
Admin




Posts

: 505


Points

: 701


Join date

: 2010-10-31



What is this you speak of? Never heard of it. Do tell. I always thought Rupaul was pretty.
Admin




Posts

: 1001


Points

: 1252


Join date

: 2009-12-07


Location

: Vancouver, Canada



It's a Tv show - Ru-Paul has this drag queen competition between the guys for the best drag queen, there are prizes but I forgot what it is,
and you wouldn't believe how much drama and hissy fits goes on there

On the judges panel they always have some well know celebrity, like today was Carmen Electra and Jody Watley
All in all I must say this is dam* good entertaining!
Char - they sure tape it somehow. On one episode I saw one of the guys tape it away with black insulating electrical tape! lolol
Saw not all of it, of course but some. the best part was hidden from camera, hmmm.
I guess everything's possible!
Risa
And so today was the last episode of The Race,
and the crown went to....
drum roll..
~ Her Dragness Queen Raja!!!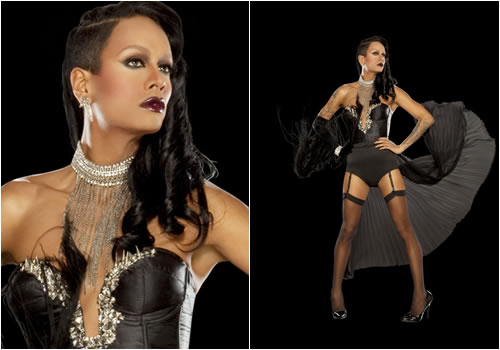 (pouting)
how come she's got prettier legs than me?!
Congratulations to Miss Raja for her win, yay
:cheers"
Risa
Seriously how beautiful is Raja? I watched the show from the start and loved it! I wish I knew how to do my makeup half as well as they do!!

Willow
new





Posts

: 1


Points

: 1


Join date

: 2011-04-22



Oh, I wish I could do, too!
They are so insanely talented, Willow, that is for sure!
They certainly are not average mere beings like me, for example. While we was watching the show -me and me kid -
we couldn't help but notice how creative they were, how imaginative.
Manila in her real life as it turned out is a fashion designer, obviously that means she could draw well and possibly paint
and with that goes the ability to create images, of course.
So there, that's how she could paint herself into an impeccable female beauty.
I was very sorry for her, though, when she didn't win - obviously, it was so very important
to show her father 'she can do it'. She was the runner-up, though!
And Raja, she obviously must have been artistically gifted, as well. All her outfits from the very beginning were so "high fashion".
I didn't get the chance to learn about her much but I know she is a professional makeup artist, so- no wonder, lolol
here's an interview with Raja:
http://socialitelife.com/meet-the-queens-of-rupauls-drag-race-raja-01-2011
Raven, Top Model, Adam Lambert - wow!
Risa
Clueless, could you please let me know if you ever see this out on DVD? I think I would love this show.
Admin




Posts

: 1001


Points

: 1252


Join date

: 2009-12-07


Location

: Vancouver, Canada



I'll be on the lookout! :]

Risa

---
Permissions in this forum:
You
cannot
reply to topics in this forum